Searching for shadows on Groundhog Day at Y-12
Posted: Tuesday, March 14, 2017, 3:07 pm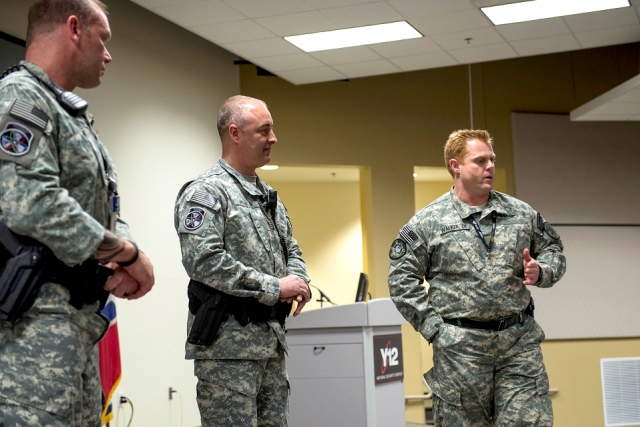 Shadows on Groundhog Day. Students from Norwood Middle School got to shadow some Y-12 professionals, including security police officers Brian Martin, John Fellers and Donnie Walker.

Every year, we get excited about Groundhog Day. Will Punxsutawney Phil see his shadow? Will he predict six more weeks of winter? Is spring just around the corner? So many questions. Anderson County eighth graders have lots of questions, too. And on this Groundhog Day, they came out of their traditional classroom settings to see where their shadow might take them in a career.
At the Y-12 National Security Complex, students from Norwood Middle School heard from firemen Craig Shaver and Brandon Alcorn; security police officers Brian Martin, John Fellers and Donnie Walker; Atomic Trades and Labor Council President Mike Thompson and Chief Steward of Pipefitters Tim Willis. Each speaker described a day in their lives at Y-12--what they do, how they do it and what education and certifications they needed to build their careers.
Thompson told the students that despite not having a college degree, his education didn't stop when he went to work at Y-12. "Any job at Y-12 requires learning new things," he said. "You never stop learning."
The one-hour event at New Hope Center's Wamp Auditorium was hosted by Consolidated Nuclear Security's Gene Patterson. Patterson described his role at Y-12 and how his work fits into the overall Y-12 mission. Afterwards, the students were encouraged to ask questions of the panel to better understand the opportunities in front of them.
The visit to Y-12 was one of several that took place on Groundhog Day. More than 700 fourth- through eighth-grade students participated at industries and businesses across Anderson County. Other participating industries included Clayton Homes, Magna Eagle Bend Manufacturing, Northrop Grumman Remotec and SL Tennessee.