Tony White: Pulling for one of our own
Posted: Monday, April 20, 2020, 9:45 am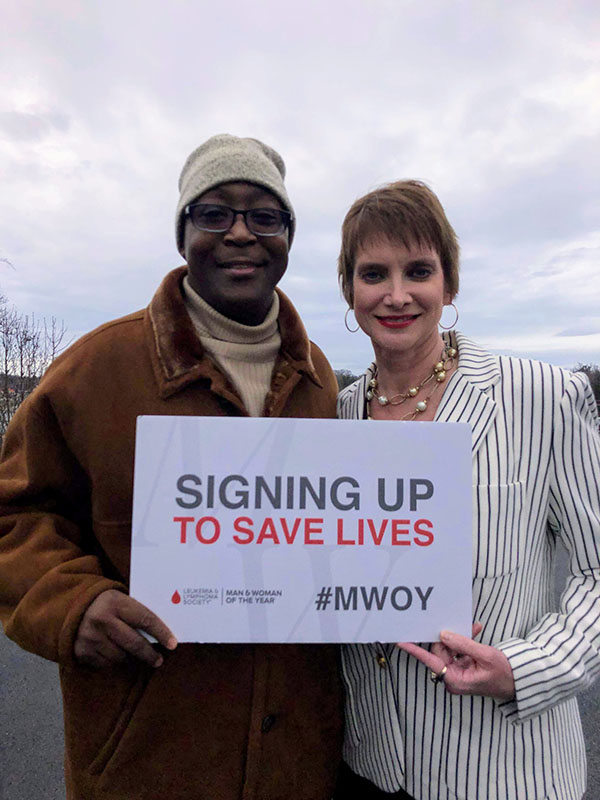 Y-12 employees Tony and Barbie White
He's a beloved member of the Y-12 family who bleeds orange and is a University of Tennessee Vol for Life. Now, Tony White, Protective Force Operations, is up for the Leukemia and Lymphoma Society's Man of the Year and shared the following.
Nobody is ready for cancer — believe me I know. When I was diagnosed with Acute Myeloid Leukemia, I knew I was not going down without a fight, but cancer is not the kind of thing that you fight on your own. Thanks to God, my family, my friends, the VFL community, and the Leukemia and Lymphoma Society, I am in remission.
Less than a year ago, I was receiving a bone marrow transplant. Now, I am asking for your help to help me help others stricken with blood cancers.
Each year the LLS launches its Man and Woman of the Year fundraising campaign. I am honored to be named as one of the five men nominated this year. From February 20, 2020, through May 1, 2020, my team and I have committed to raise as much money as we can. Every dollar we raise counts as one vote, and the candidate whose team tallies the most votes will win the prestigious title of 'Man or Woman of the Year.'
White played for the University of Tennessee from 1983 through 1987. He was first in the Southeastern Conference for points per game (22.2 in 85-86, and 24.5 in 86-87) and free throws (165 in 86-87). He was the SEC player of the year in his final season (86-87).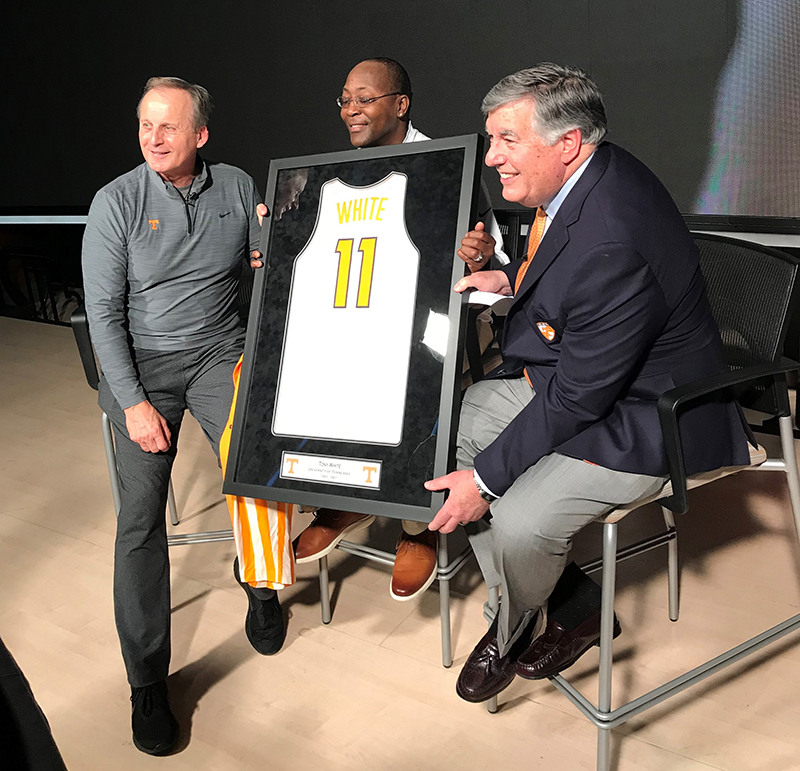 From left University of Tennessee Men's Basketball Head Coach Rick Barnes, Tony White, and Bob Kesling, Voice of the Vols
Barbie White of Safety & Industrial Hygiene and Tony's wife said Tony is doing well and remains in great spirits. "He's fundraising for LLS and wants to help others who are fighting blood cancers. We have several events planned, and I encourage anyone interested in donating or seeing how Tony is doing to visit his LLS page (link: https://pages.lls.org/mwoy/tn/knox20/twhite)."
For more than 15 years, Y-12 has supported the LLS Light the Night walk held in October each year. The Whites were part of the 2019 Y-12 team and plan to participate in 2020.
For 2020, Y-12 has two ties to the LLS person/child of the year as Alex Grappin, son of Tony Grappin of Y-12 Engineering, is the 2020 Boy of the Year, and White is in the running for the Man of the Year.