Y-12er on All-Army Women's Rugby team wins Armed Forces Championship
Posted: Monday, August 1, 2022, 8:09 am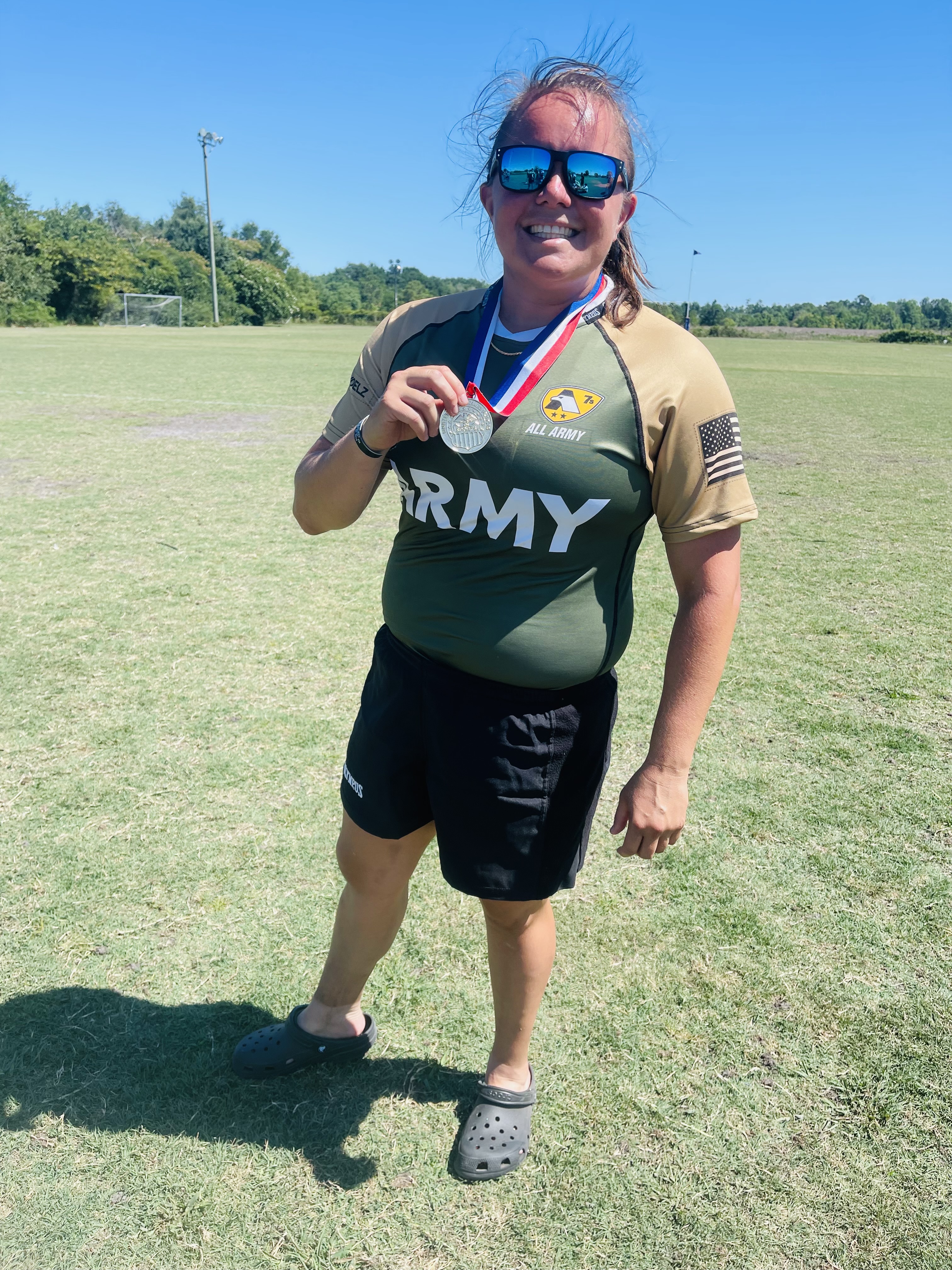 Y-12er Ally Derthick picked up rugby and became the only athlete from the National Guard on the 14-member All-Army Women's Rugby team. She's also one of 90 athletes (men and women) in the U.S. Army to be named to an All-Army athletics team.
Y-12's Ally Derthick says she has always enjoyed physical sports. In high school, it was ice hockey, lacrosse, and field hockey. In college, she played goalie for the Wisconsin-Eau Claire ice hockey team and was enrolled in the school's ROTC, or Reserve Officers' Training Corps. She received her commission as a 2nd lieutenant in 2014 and has been a member of the Tennessee Army National Guard for the past 8 years.
In 2019, she came to Y-12, and also happened to find herself looking for a new sport. She landed on rugby, a game that is a mix of soccer and football without the pads. It is continuous with few breaks (like soccer), except for the occasional scrum, lineout, or penalty. There is tackling, passing, and scoring (like football).
"I found rugby one day on television and decided that I was going to do it," she said. "The rugby community in Knoxville welcomed me with open arms, and, two years later, I find myself fully submerged in the culture."
She's both fully submerged and very good it. After just two years, Derthick was playing for the Minx, a Knoxville-based club team. In May, the Minx placed second in the nation in the Rugby National Championships for 15s (15 players on each side).
That led to another honor. Days after competing in the National Championships, she was selected to the All-Army Women's Rugby team, the only athlete from the National Guard on the 14-member squad.
In late June, Derthick and her teammates competed in the Armed Forces Women's Rugby Tournament for 7s (7 on 7) in Wilmington, North Carolina. Despite having only practiced together for less than 10 days, the All-Army team racked up the best record in a round-robin event that featured all the military branches. Derthick's team went undefeated and won its third Armed Forces Championship in a row.
For those wondering about bragging rights, Army placed first, followed by Air Force, Coast Guard, Marines, and Navy.
Derthick says she's proud of her accomplishment, but also humbled by it. On each teammate's jersey is the motto, "For Those Who Can't," a reference to the female soldiers who've lost their lives in the service of their country. On the sleeves are the names of those soldiers.
"Those women are who we play for," said Derthick.
"I have learned and gained knowledge and trust beyond my years by competing with this team and am looking forward to carrying it into everything else I do," Derthick declared.
And that includes her work at Y-12. She says Y-12 embodies the ideals of her rugby team: trust and teamwork.
"I realize that everyone has a job to do. To do it right, you must be a trusted member of the team and a professional. Completing our tasks is paramount to the security of the nation. Our country depends on us to do our jobs," said Derthick.
As for her future, Derthick hopes to join the All-Army team again next year to defend their title. "This year afforded me the opportunity to play alongside some of the greatest ruggers and service members in the United States," she said.